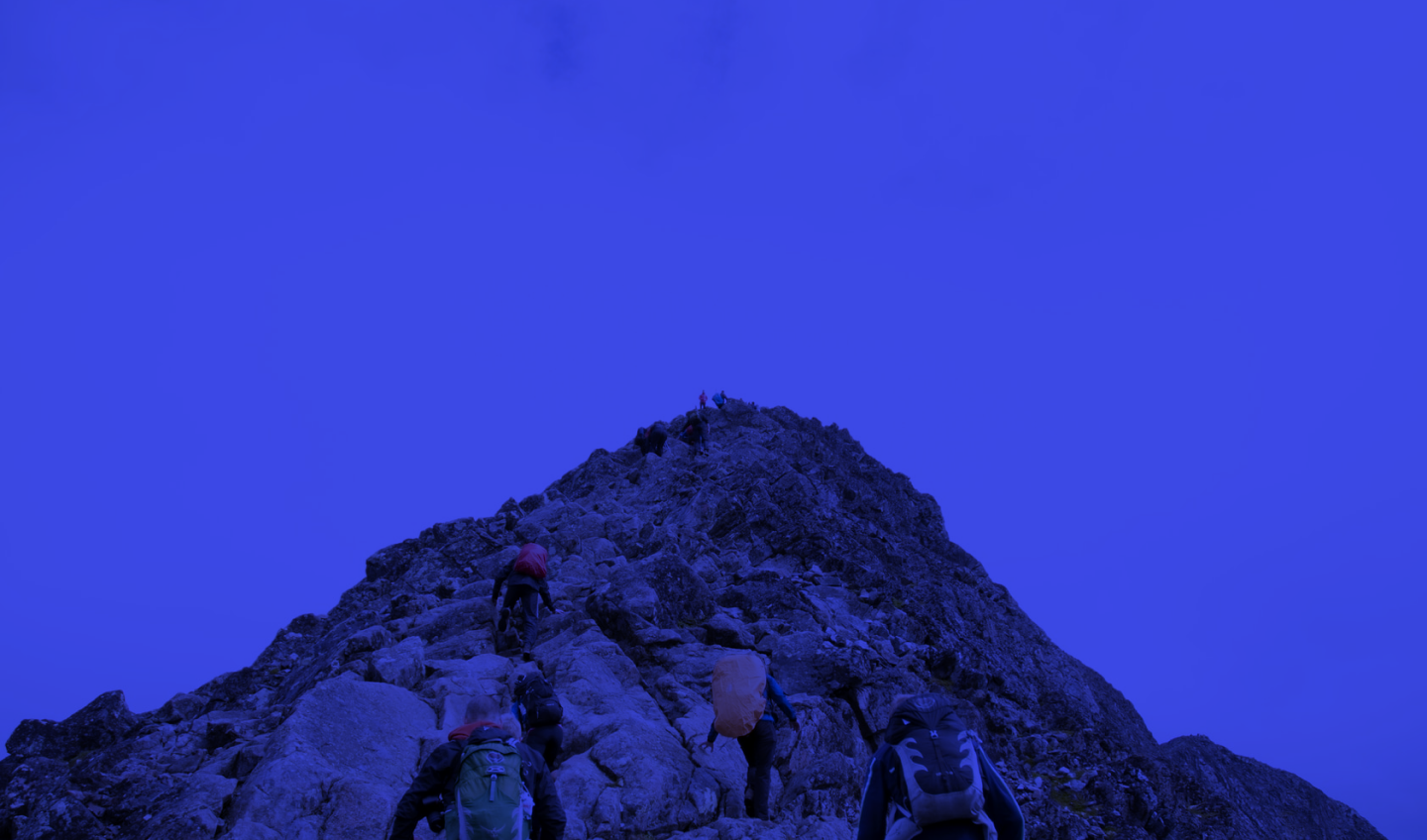 ENCOURAGE YOUR STAFF
WITH THEIR
CHARITABLE ENDEAVOURS

.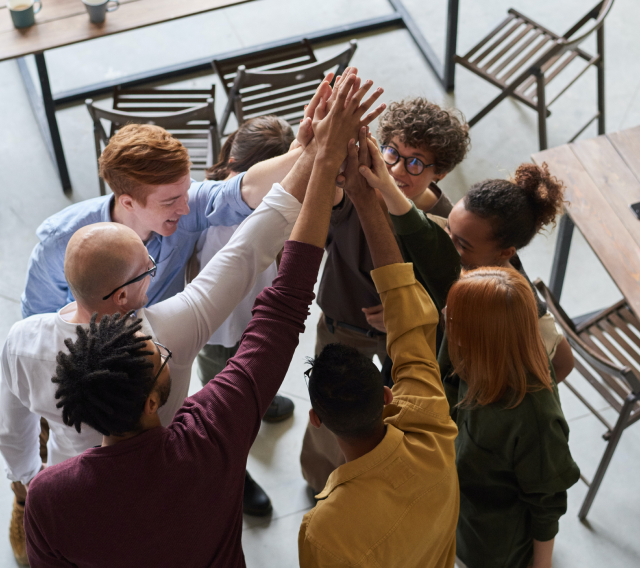 IMPACT
Make a bigger impact on the charities you support by engaging your colleagues and help them set exciting fundraising challenges with their own individual pages.
Our simple platform is customised to your brand, at a low cost and engaging for everyone who sees it.
Increase your impact for social good and harness the power of your team.
HOW IT WORKS
CENTRALISE YOUR

EMPLOYEE FUNDRAISING

.
QUICK LAUNCH OF YOUR FUNDRAISING PLATFORM
We'll design your fundraising platform to match your brand, objectives and ethos. Happy to work with your existing creative team to ensure brand integrity.
SEND TO YOUR EMPLOYEES & START FUNDRAISING
Send your colleagues a single landing page where they create their own individual fundraising page. Giving them the freedom to raise money the way they want.
INCREASE DONATIONS FOR CHARITY AS A COMPANY
Colleagues share their page with friends and family for donations. Everyone can see the leaderboard for all departments, branches or regions in real time.
HOW IT HELPS
GREAT FOR YOUR STAFF, EVEN BETTER FOR YOU.

LEADERBOARDS TO BUILD COMPETITION

See how many fundraisers, how much has been raised and number of donations in real time. View as departments, regions, branches or sections to suit your organisation.

Fundraisers can create multiple challenges throughout the year and unlimited individual pages. Create teams to see the impact of groups of fundraisers all working together.

If you need to recognise donations given in cash or a pledge, just add them easily to your campaign. Tracking makes it easy to ensure the commitment is honoured

Choose a single charity or multiple charities you want to support. Your fundraising pages will be designed to show clearly who you are supporting.
See the all the fundraising data you need at a glance as it happens.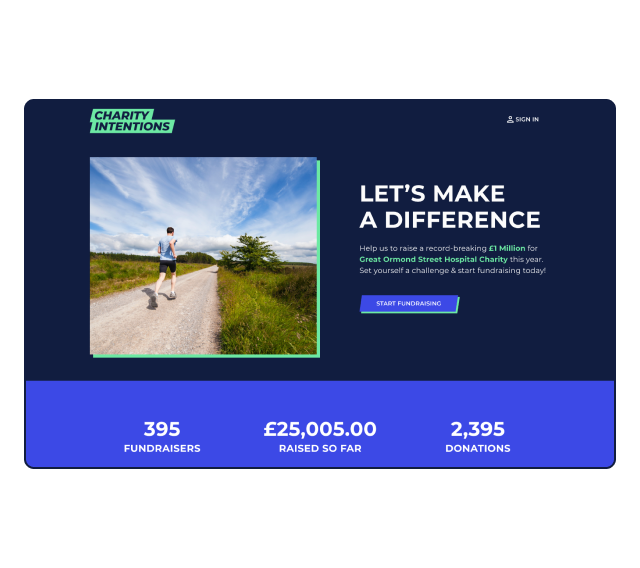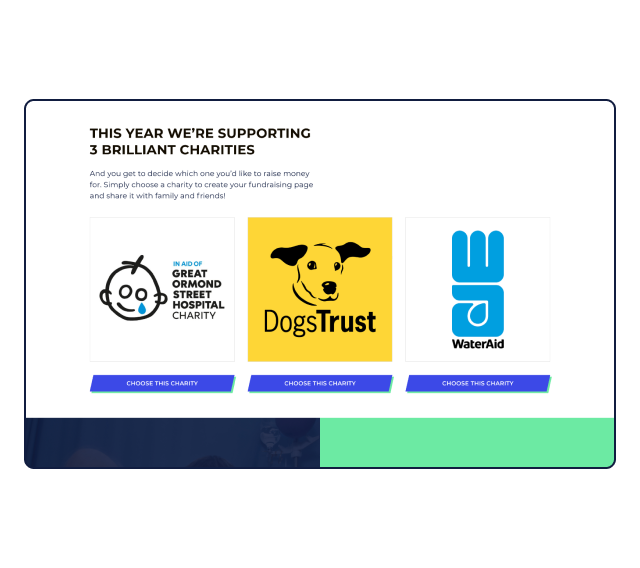 Add the charities you support for your staff to see and can even choose the ones they feel a connection with.
CUSTOMISED DONATION PAGES.
An engaging fundraising page for every member of staff, with customised design, animation and clear donation options.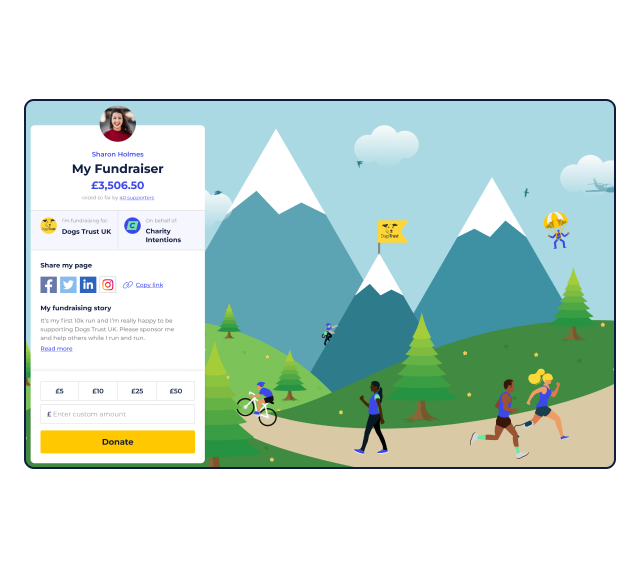 CASE STUDIES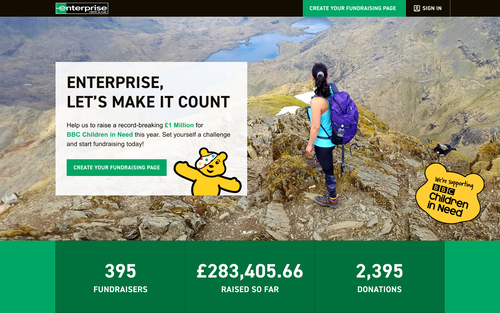 Enterprise Rent-a-Car used the Charity Intentions system to support their annual Children in Need fundraising activities.
Enterprise leaderboard showed the number of employees with fundraising pages, the total donations and the amount raised.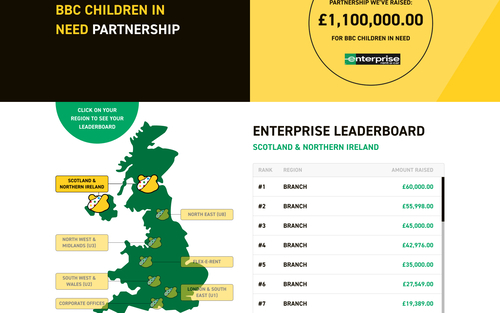 Individual branches and regions also had a map showing their own totals to aid friendly competition.
Every employee could create their own fundraising page with a unique link to share with friends and family.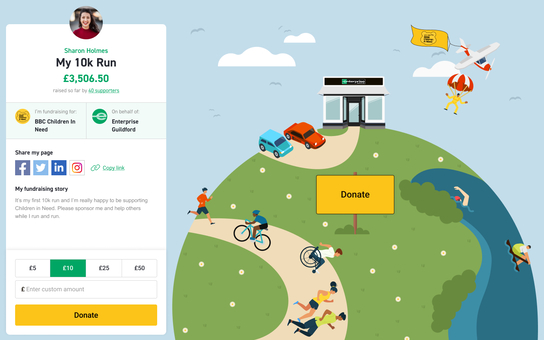 Employees added the challenge they were fundraising for, some information about themselves and could give regular updates on progress.
Their branch and amount raised was visible along with the donors and any messages of support they gave.
A Platform you can trust